Getting kicked off of Google can be a huge blow to traffic and revenue for any business. If you're primarily an online business you can't afford to not be on the world's largest search engine.
How do you determine if your site has been de-indexed? If you're checking your analytics and reporting often (which you should be) you'll quickly notice a decrease in traffic. For many sites this can be a big chunk of traffic. If you're averaging around 1,000 visitors a day then all of a sudden you are only getting about 250, something is wrong.
How did we get here? How do we fix it? How can we avoid this from happening again?
Spam
Google tries to remove any spammy sites from their search results and have gotten quite good at locating these sites. There's a few things Google looks for to determine if sites are spreading spam.
Hiding links – When advertisers started learning more about backlinks they found the more the better. To get more links on a site they would hide these links "behind" other features on a page. To bots they see the links, but users don't have to see the links on the page. No Google is able to tell when links are being hidden, and if they find it they'll remove the site.
Scraping content – This consists of running through a website, pulling the content, and posting it on your site. Similar to duplicate content, see below, this is basic plagiarism. Google wants to see new, relevant, helpful content that provides value to users. Now there are ways to give credit to the original post which is mentioned below.
Auto generated content – Closely related to scraping content is having a program that auto-generates content for a website. This is often done with a program that gathers ideas, sentences, etc from previous content. The content is plagiarized and often incoherent to read. The goal is to utilize keywords on the site and get new content added to the site regularly. However, content like this typically does not do well with users which results in poor SEO. Of course if Google finds out this is happening the site can be de-indexed.
Installing viruses or phishing – This should be a no brainer, but we have to mention it. Don't install viruses on people's devices!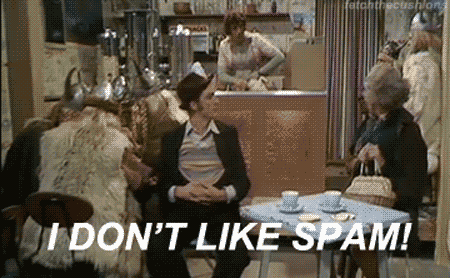 Keyword Stuffing
The old school approach to SEO was to get your focused keywords within your proper tags as often as possible. Unfortunately, many people abused this and began keyword stuffing their pages. A common practices is to do this within the title tag, specifically on the homepage. For instance, let's say a site offers bedroom and living room furniture.
A proper title tag would look something like
Bedroom & Living Room Furniture | Company Name
A keyword stuffed title tag would appear something like
Beds, Bedroom, Mattresses, Living Room, Couches, Sofas, Furniture, Furniture Store, Furniture Store Dallas, Mattress Store.
Google wants pages to have a quick title describing what the pages is about. Now keyword stuffing also comes into play with content. Trying to rank a blog article about "easy ways to entertain kids during summer"? Don't write your phrase over and over throughout the article, use variations of the phrase. Of course, your content should be smooth and organic while reading.
Little or Thin Content
Having thin content doesn't just mean having low word count on the site. It also means your content is low quality and not providing any value. This can be duplicate content, mentioned below, or scraping content, which is mentioned above.
Overall. If your content isn't well thought out and useful Google will not rank it. It's not common Google will de-index an entire site for thin content. However, it has happened so it's best practice to create quality content people will enjoy.
Duplicating Content
As mentioned above duplicate content is a big no no. Duplicate content is pretty simple, it's copied content from one site to another. In some cases it can even be content copied from one page to another page on a site.
Now it is okay to copy content from a page as long as you give credit to the source. This is done by using canonical tag which appears like this <link rel="canonical" href="http://example.com/blog/seo-tips/" />
This tag will let Google know that credit should be given to the URL mentioned.
Poor Links
Links can make or break how a site ranks in the search results. Having a few great links can get your page listed on the first page, a few poor links and you're off Google all together. We advise reviewing your back link profile to determine the links pointing to your site are legitimate. In many cases there may have been some bad decision making, or just some bad sites decided to link to you, which has resulted in poor links for your site. Take the time to get these poor links removed, it will make a huge difference in the future.
Using Gateway Pages
This method involves portraying the site as one domain or URL then sending the user to another one. You think you click on a page about SEO, then all of a sudden you're redirected to a page that is trying to sell you patio furniture. This results in poor user experience and falls under the category of spam. Tricking users into visiting sites will get you de-indexed quickly. Google bots can quickly crawl a page and determine if it's leading users elsewhere.
Overall, treat others how you would like to be treated. Don't trick them, or take advantage of them. Offer helpful, entertaining information that adds value to the internet. Now if you have been de-indexed contact us immediately so we can get you back on Google.
Share & Rate This Post